Ready for a uplifting blast of positive well-being–– instantly?
Crave more romance and connection, less squabbles and criticizing?
Want to make a difference amid the negativity growing around us?
The Compliment Quotient reveals the surprising power of appreciation to transform your relationships, your attitude, your world.
rekindle romance with your partner and reduce your habit of criticizing
grow your positive impact in your community– and more success at work
keep a more uplifted sense of well-being and joy, even amid your busy, stressed out days
"I loved this book." Monica Hanks, The Readathon Blog
"…enhanced my relationships, my parenting, even my business success."
Lisa Tener, Author, Ultimate Guide to Transforming Anger
"…quick, practical ways to uplift your own spirits…"
Mary Morrissey, author founder Life SOULutions
What Busy Woman Doesn't Want More Joy, More Easily?
If you're anything like me, you're juggling role upon role. I jumped into my career, romance, motherhood, friendships, volunteering, ready to set it all on fire. And then life pushed back.Big time.
In the midst of it all, I discovered a simple practice that
• enlivens my days any time or place I use it,
• brings a positive focus to family and friends,
• adds bursts of joy and meaning to simple encounters
• and weaves more romance into my relationship.
Women excel in a heart-centered approach to life and others.
Many books try to decipher happiness, but few give this step-by-step guidance. Filled with practical tips to put to use immediately, this "quick read" (after all, you're b-u-s-y) is a cheerful conversation with a friend.
Ready to get the book now? Order from Amazon.com below. After you place your order, return with your order number and click here for a special BONUS, delivered immediately!
Filled with Complimentology® tips and techniques, author Monica Strobel takes you on a light-hearted journey to understand and use this one, life-changing frame-of-mind habit, including:
Why compliments are more powerful than you think
How compliments embody essential and spiritual qualities
What are the most effective and meaningful compliments
How more compliments enhance your relationships: with your spouse, children, friends, those around you– and yourself
Why you are so bad at accepting praise and how do you change it up
"I frequently speak about how simple, kind actions can transform your life and relationships. In The Compliment Quotient, author Monica Strobel outlines quick, practical ways to add more positive words of praise to uplift your own spirits while spreading the vibrations of love, gratitude and acceptance to others."

— Mary Morrissey, bestselling author of No Less Than Greatness and Building Your Field of Dreams, president and founder of LifeSOULutions
The Compliment Quotient empowers women to grow the practice and vocabulary of natural praise. This quick 'attitude adjustment' enables you to feel more joyful and gain a deeper fulfillment in your relationships– even more romance and passion!
"The Compliment Quotient offers a simple, compelling strategy for putting more zest and great feelings into busy days. Monica Strobel reminds us that we may not always have time for a yoga pose or meditation, but there's an easy way to reduce stress and boost the quality of our lives–and those around us. It's a joy to offer my compliments to Monica Strobel!"

—Tama J. Kieves, bestselling author of This Time I Dance! and Founder of Awakening Artistry. (AwakeningArtistry.com)
Give YOURSELF a gift to shift your attitude, your joy and your success in life.
Makes a GREAT GIFT for your mom, your sister, your friends and co-workers, too!
Order your copy of The Compliment Quotient:   Boost Your spirits, Spark Your Relationships and Uplift the World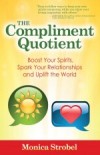 $ 14.95 with $1.95 shipping U.S. locations  (below left)
OR order directly from Amazon.com (right)
| | |
| --- | --- |
| Order Now from PayPal:  $14.95 plus $1.95 shipping for U.S. locations | Order Now from Amazon: |
ONCE YOU ORDER FROM AMAZON, return and click here for your special BONUS– delivered immediately! Paypal orders will receive it automatically. Also available at www.barnesandnoble.com, if you prefer.
Orders from Paypal from this site will be inscribed to the purchaser. Or send me an email with names of who to inscribe your book to. These orders will be delivered in one- to-two weeks — you will receive an email confirmation. Questions? monica@complimentquotient.com. Billing will show as "WiseRoads LLC"
VOLUME DISCOUNTS OR BULK ORDERS AVAILABLE:
Books make a great, longlasting impression: kept around, shared around, re-read.
Many people have shared how they keep their highlighted copy handy to remind themselves of certain tips or passages.

Want to give 5 or more books as gifts
Buy for your book club
Give away as a company premium, employee incentive or corporate thank-you
Use as a fundraising item
Simply email monica@complimentquotient.com or call 303.898.8706. Customized options are available, too, with your business name and message inside the book!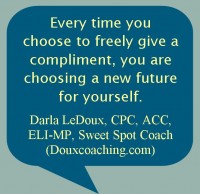 ---
Read what others are saying about the book!

Want a Look Inside the book?
---
MAKE A DIFFERENCE!
A portion of the proceeds from all Compliment Quotient items will be donated to the Cheryl Shackelford Foundation for Ovarian Cancer Awareness or other local/national nonprofits working on ovarian cancer support, education, research and advocacy.
NEXT:
Watch for further details on Monica Strobel's upcoming book: The Appreciation Advantage