One of the things that really has shown up for me is the number of women who ask me about how to accept compliments better. In one instance, a very attractive young woman at a tv station pulled me aside after my interview to specifically ask why she does this and how to change it up. Another woman brought it up twice at one of my recent speaking events.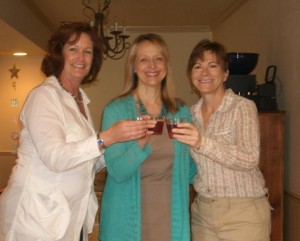 Women, in particular, struggle with this more than men. While I devote a whole chapter on this in my book, I wanted to share a quick reminder about this since you may be on the receiving end of more compliments during these holiday times. If you dress up more or interact with folks you haven't seen for awhile at social events. For your food at family, neighborhood or other get-togethers. On your decorations or even your gift-wrapping.
Rather than start to qualify your answer, with a "…this old thing?" about your top or dress or try to explain it away with an  "…anyone could have," about your holiday cookies, simply stop, take a breath and say "Thank you!"
Soak it in. Let the light shine on both of you– them for saying it and you for being your amazing, shining self.

If you are really bursting to add something, you can gift some of their compliment energy back—not by complimenting them—save that for another time—but by saying that is nice of them to say so.
If you go on and on about why you may not be deserving of their praise, they are liable to start doubting if they made the right observation about you. Instead, by graciously accepting a compliment, you are alerting them that around you, everyone's brilliance is acknowledged.
"There are two ways to be the light. One is to be the candle, the other the mirror that reflects it." Edith Wharton
You are brilliant!
I'll be writing more about why and how to raise your taking a compliment quotient. In the meantime, here are some questions to ask yourself if you have trouble accepting compliments:
1. Do you feel unequal to or beneath those with whom you usually associate at work, at play or elsewhere?
2. Do you undertake tasks or responsibilities beyond your means or abilities just to remain in the good graces of someone?
3. Do you consider yourself an outsider or an interloper in the midst of certain people?
4. Are you afraid to take a stand or to voice an opinion because someone may not like it?
5. Are you forever apologizing for something you said or did, when there is no call for it?
All of these are signs that you will benefit from a bit of self-confidence work. And simply accepting
If you answered Yes to one or more of these questions, it's time to take a look at  your self esteem as these may be impacting more than one area in your life, such as your relationship, parenting or job.  We'll be talking more about this soon!